By Anthony S. Policastro
Newly-published author,
Scott Fields
talks openly about his writing, how he does it and his newest book,
Summer Heat.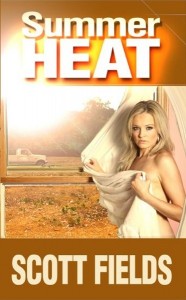 Here is the synopsis of
Summer Heat
:
When she was 17, there wasn't a man alive she would let get near her, and when she was 18, there wasn't a man she would keep away.
She stood five feet seven inches tall, weighed one hundred twenty pounds, her green eyes sparkled like brilliant cut emeralds, her inviting full lips always ruby red and moist. Women universally hated her, men continued to hold doors for her long after she passed by - just to watch her walk away.
To imply that Jessie exuded sex would be an understatement, akin to inferring that water was wet.
Ninety-nine point nine percent of the men in Steam Corners wanted her, but she only wanted one man, Spencer Deacon. He was everything that she was not, even-tempered, amicable, well respected and kind. The one thing that Spencer didn't want was Jessie, and his firm and undeniable rejections infuriated her.
What followed was a series of sordid events involving murder, deceit, betrayal and the conviction of an innocent man.
ASP:
I couldn't help but notice that your latest novel,
Summer Heat
, is quite diverse from some of your earlier novels which were small town, nostalgic works. Why is this book different?
S. Fields:
All my life I've had this obsession with ideas for stories. I never know when one of these germs is going to somehow penetrate my head. I certainly have no control of it. It just happens. I've written 12 novels, 8 screenplays and 13 short stories, and each one of them was inspired by one of those germs that was implanted in my head. I'm always writing something, and all the while I have four or five story ideas buzzing in my head.
ASP:
Bestselling author James Patterson has the same problem. Maybe you could give us a little history of your writing career.
S Fields:
All my life I've always wanted to write. I didn't really get started until I went to college. Believe it or not, I turned down a contract from the Detroit Tigers, so that I could go to college and learn to write, a decision I've questioned more than once. The sad part is that I learned that nobody can teach you to write. The only way to learn is by simply writing, and I mean writing everyday. To hone the craft to an art form, one must be dedicated to the point of obsession. After college, I continued writing short stories and was lucky enough to have four of them published. Later, I began to write novels and now my fifth one has been launched by Outer Banks Publishing.
ASP:
So you actually turned down a chance to be a professional baseball player. That must have been a difficult decision.
S Fields:
You have no idea. I was drafted in 1966 after graduating from high school. There were over 700 young men in that draft, and I was the 34
th
pick. You better believe that was a tough decision.
ASP:
How long does it take you to write a novel?
S Fields:
Up until a year ago, I was working a full time job, and most of my books would take about a year to write.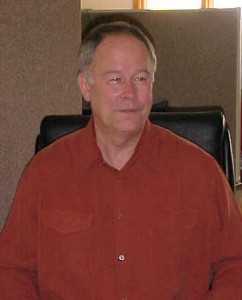 ASP:
Where did you get the idea for this one? Was it another one of those germs from out of nowhere?
S Fields:
I was driving along the highway. My wife was asleep, and my mind was in neutral thinking about what I was going to do when I got home. The next thing I know I get this idea about a young, sleazy woman who loves to party married to an older, serious-minded farmer. Every man in town wants her, but she wants a young, Afro-American man. To her frustration, this young man wants nothing to do with her sexually.
ASP:
I'm a bit surprised that someone who writes warm and fuzzy stories could write such a book.
S Fields:
Most authors have a certain genre that is their expertise. It is a genre in which they excel. Stephen King is famous for his books of horror, and Danielle Steele writes women's fiction. I write whatever excites me at the time. I have no niche or particular genre to call home. I even wrote a book about two men who went on a killing spree back in 1948. In a two week period, they murdered 6 people in Ohio. Even after all these years, it still remains the worst killing spree in Ohio's history. On the other end of the spectrum, I wrote a religious book called
Just Believe.
Actually, I hope I never settle for one particular genre. I think I would get bored.
ASP:
Where are all of these projects that you have written? You've only had four novels published.
S Fields:
They are buried somewhere in my computer. Generally, when I finish a project, I'm aching to get started on a new one. Many of my projects were written years ago and have been forgotten.
ASP:
Have you ever dreamed of becoming a nationally-known author?
S Fields:
I'm sure every writer has a one time or another dreamed of seeing his books in stores across the nation. I like to keep things in perspective. I consider writing as my hobby, then I'm never disappointed.
ASP:
Do you think
Summer Heat
will be successful?
S Fields:
Not to appear immodest, but, yes, I do. Women's fiction in 2004 represented 55 per cent of all book sales. Today's trend is thrillers, but women's fiction is still right up there.
_______________
Summer Heat
is available in print from
The Outer Banks Publishing Group Bookstore
at a special discount of
$9.99
and on
Amazon
,
the Kindle
, Barnes and Noble,
and bookstores everywhere.
Paperback: 212 pages
Language: English
ISBN-10: 0982993110
ISBN-13: 978-0982993118
Product Dimensions: 8 x 5 x 0.5 inches
Shipping Weight: 10.4 ounces